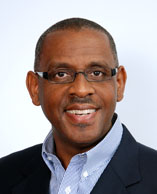 The President, Mr. Grafton Ifill, Jr., has worked in the financial services sector for more that twenty-five years and has garnered considerable experience in both the offshore and domestic commercial banking environments. Well established in the field, he has held senior level positions with a major financial international bank locally; having managed several of the larger branches and completing a stint in the bank's Commercial Banking division.
Known for his high standard of professionalism and expertise, our President has also served as a Consultant to the Bahamas Government specifically in the Ministry of Youth, Sports and Culture.
Mr. Ifill has received extensive training through the international bank in commercial credit as well sales and general management in its Canada, Puerto Rico and Trinidad units. Mr. Ifill holds a Bachelor of Arts Degree from Luther College and is a Professional Member of the Institute of Management Consultants, USA.
Visionary in his thinking, Mr. Ifill has been the President and CEO of GVI & Associates Company Ltd. since September 2002.